September 15th, 2016 by CAPASMM
After smashing success in 2014, the collaboration between BalletMet, the Columbus Symphony, and Opera Columbus returns to CAPA's Ohio Theatre, September 22-25. Twisted 2 is a can't-be-missed event "twisting" masterful choreography, lively classical works, and acclaimed operatic pieces together, making it an experience unlike any other!
Fully embraced by the public in 2014, Twisted brought in capacity crowds that erupted in wild applause night after night. Twisted 2 promises a repeat of all of that, but even bigger and better! Performances will begin with a pounding adventure to Valhalla with "The Ride of the Valkyries" and the intense romance of "La vie en rose" featuring the powerful vocals of soprano Jennifer Cherest. The deep, haunting sounds of the cello accompany soprano Chelsea Hart in "Vocalise," leading into a wild and energetic chase of "Dance of the Comedians." Crowd-pleasing Carmen is represented with its Overture and "Chorus of the Street-boys," all culminating with Beethoven's glorious "Ode to Joy." BalletMet dancers tie each piece together, weaving in and out of song and music with works by internationally acclaimed choreographers Val Caniparoli, Matthew Neenan, and Alex Ketley. All-in-all, 16 works will be performed like you've never seen them before!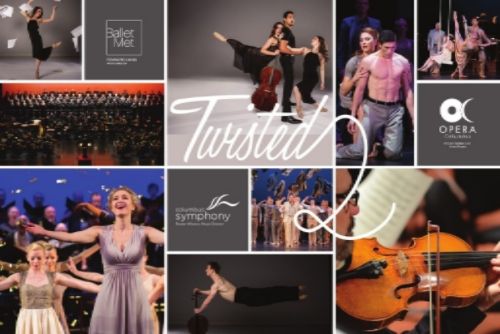 Engage all your senses at once by tasting Columbus' three flagship performing arts organizations united together on stage. Dazzle your eyes with the world-class dancers and choreography. Hear the universal language of music through the magnificent sounds of the symphony and richness of the opera. As you leave the theatre, the sweet smell of success will waft through the air as you realize how much the beauty of the arts have touched your soul.
By Holly Wiencek