July 23rd, 2014 by admin
As part of the CAPA Summer Movie Series, local TV and radio legend Fritz the Night Owl will make an appearance at Fright Nite Friday on July 25, screening a double feature of The Return of the Vampire (1944) and Dr. Jekyll and Mr. Hyde (1931).
Fright Nite is a popular feature of the Series, and this will be Fritz' fourth year participating in the event. Fritz is known for hosting the late night television show "Night Owl Theatre" from 1974-1991, as well as his radio show, "Nite Owl Jazz: What's New in Jazz for the 21st Century." He has earned five Emmy Awards and an induction into the Horror Host Hall of Fame.
The first selection of the double feature, The Return of the Vampire, is a masterpiece in the world of horror classics. Bela Lugosi jumped at the chance to play a vampire again (he hadn't been one since 1931's Dracula, and only a fake one in 1935's Mark of the Vampire). He even took a ridiculously low fee of $3,500, the same he was paid for his first vampire film. Since this was a Columbia feature, it wasn't an official part of Universal's Dracula franchise—names and the werewolf's appearance were changed to avoid any copyright issues. Columbia even pushed the release date from fall 1943 to early 1944, skirting direct competition with Universal's Son of Dracula starring Lon Chaney Jr.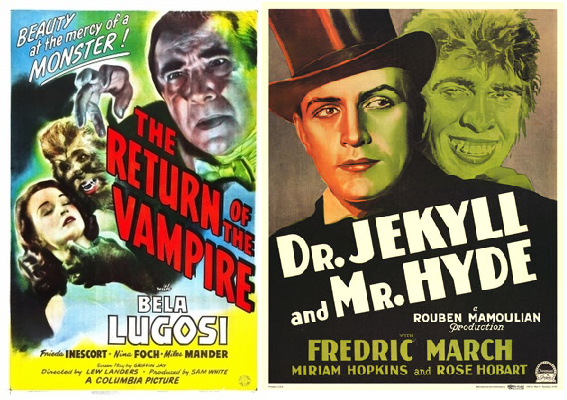 The second selection, Dr. Jekyll and Mr. Hyde, is a remarkably advanced film in regards to filming techniques, lighting, and production. The on-camera transformation from Jekyll to Hyde earned high praise, and it wasn't until decades later that the director divulged his secret—a series of filters highlighted with different hues to change the appearance of the actor's multi-colored make-up.
With two classic horror films, two series premieres, and Fritz, it's sure to be an epic night of fun and fright!
by Michael Keating
CAPA Summer Movie Series Fright Nite Friday with Fritz double feature of Return of the Vampire and Dr. Jekyll and Mr. Hyde will play the Ohio Theatre on Friday, July 25, at 7:30 PM. To purchase tickets, click here or call the CAPA Ticket Center at (614) 469-0939.