We love taking you behind the scenes, and so does Columbus Open Studio & Stage (COSS)! On October 8 and 9, we are thrilled to be a part of the first-ever COSS tour, a citywide event offering you backstage tours of some of your favorite venues.
The idea stems from four women—Lisa McLymont, Stephanie Rond, Catherine Bell Smith, and Amy Leibrand—who dreamed up the idea of giving the public the opportunity to go behind the scenes and connect with artists and venues in a way that's never been done before. Together, they approached the Greater Columbus Arts Council (GCAC) and the Art Makes Columbus/Columbus Makes Art campaign, and the match seemed natural. "This event fits perfectly with the Arts Council's Art Makes Columbus/Columbus Makes Art marketing campaign," said Jami Goldstein, vice president of marketing, communications, and events at GCAC. "[It] highlights the incredibly talented artists of our city and introduces new audiences to Columbus's unique arts scene."
Here's how it works: for $10, you can buy a map that grants you behind-the-scenes access to participating performance venues and visual artist studios. After purchasing your map, you will be invited to register for guided backstage tours at the performance venues or self-guided tours of the artist studios.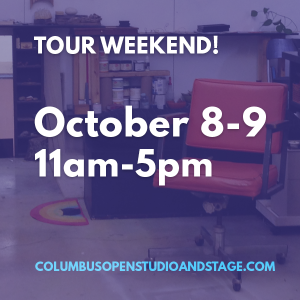 Participating performance venues include the Lincoln Theatre, Ohio Theatre, Palace Theatre, PromoWest Express Live, CD102.5 Big Room, Shadowbox Live, and the Short North Stage's Garden Theater.
Participating visual artist studios Brooke Albrecht, Laura Alexander, John Bolzenius, Queen Brooks, Richard Duarte Brown, Katherine Crowley, Anita Dawson, Katerina Harris, Maira Hashmi, Lisa Horkin, Pilgrim Heidi Kambitsch, Linda Langhorst, G.W. Leach, Julie Macala, Michael McEwan, Kristin Morris, Elena Osterwalder, Jeff Regensburger, Nikos Rutkowski, Carol Stewart, Joshua Stewart, April Sunami, Stephen Takacs, Brian Williams, Roger Williams, and Matt Wolcott.