CAPA loves education, and we think it's important to expose as many students to music and theatre as possible. CAPA presents an Education Series for students and teachers each year, providing tickets, transportation, study materials, and/or in-school sessions (whenever possible). Through this special series, we have given the gift of theatre to hundreds of central Ohio students of all grade levels.
On January 31, the CAPA Education Series will kick off Black History Month with the stage musical Four Score & Seven Years Ago which explores slavery, abolition, and the historical significance of the Civil War era. It tells the story of two men—young Lemuel, who has arrived in Gettysburg after escaping slavery in Georgia, and Jacob, a young Confederate soldier—and what they teach each other about bravery and loyalty. The performance includes a printable study guide with discussion questions and activities.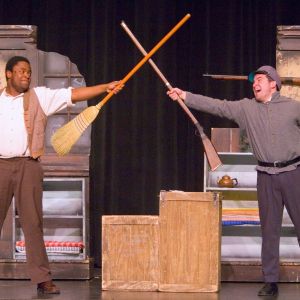 Later this season, the CAPA Education Series will dive into science with Dr. Insecta's Incredible, Unforgettable Bug Lab Experience (March 2), and explore classic children's literature with Anne of Green Gables (April 3). You can learn more about our education program here!

Four Score & Seven Years Ago will be performed at the Lincoln Theatre, January 31, at 10am and 12:30pm. The show is recommended for students grades 3-8. Tickets are $5. To purchase tickets, call Heather Kalman at 614-719-6764.