With Valentine's Day just around the corner, we highlight three reasons that you'll fall in love with the Broadway musical, The Bodyguard.

1. A story, that literally, starts with a bang
This romantic thriller shows the journey of a relationship between an Academy Award-nominated music star and her bodyguard. As the superstar is being stalked, she receives death threats while on tour which bring the two closer together. With heartbreak and action, you will be on the edge of your seat the entire show.
2. Deborah Cox, a star that will dazzle you
This Grammy Award-nominated and multi-platinum R&B recording artist and film/TV actress channels Whitney Houston as the leading role in The Bodyguard. In 2004 she made her Broadway debut when she joined Elton John and Tim Rice's "Aida" and joined the cast of Jekyll & Hyde in 2013 as Lucy. Cox began her recording career as a background singer with Celine Dion before receiving her record contract with Clive Davis. She has amazed audiences across the country while on tour with The Bodyguard and will be sure to continue to dazzle audiences in Columbus.
3. Songs you know and love
The Bodyguard features a list of irresistible classics like "Queen of the Night," "So Emotional," "One Moment in Time," "Saving All My Love," "Run to You," "I Have Nothing," "I Wanna Dance with Somebody," and one of the biggest selling songs of all time – "I Will Always Love You." Being one of the most celebrated soundtracks of all time, you will fall in love with the music and energy this musical will bring.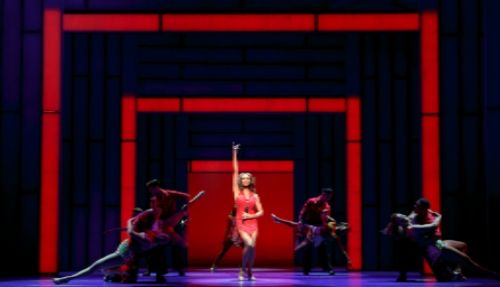 The Bodyguard will be at the Ohio Theatre from February 14-19. You can buy tickets here or at the CAPA Ticket Center.