Kinky Boots…the words probably conjure up different thoughts for everyone. For me, six months ago, it would have brought to mind the fantastic Broadway show that will be at the Ohio Theatre Oct. 6-11. Now, after traveling all over Columbus with two pairs of red, thigh-high leather boots and trying them on the movers and shakers in town, the words mean so much more!
We wanted to show what Kinky Boots The Musical is all about – standing up for who you are and what you believe in, being who you want to be and showing the world what you care about. We asked 18 Columbus residents, from the internationally famous to your next-door neighbor, to wear the boots and stand up for a cause that is close to their hearts. Columbus is a great city, so it figures that we had a great response! Truly, our boot-wearers really got into the moment and had a lot of fun with it.
We began rolling out the photos last week on the Broadway in Columbus Facebook and Instagram sites. Check out our pages and be sure to like and follow to see all the "kinky" posts. If you happen to have a pair of your own kinky boots, feel free to post a pic and tell us what you believe in…be sure to tag #kinkyboots and #bwaycbus!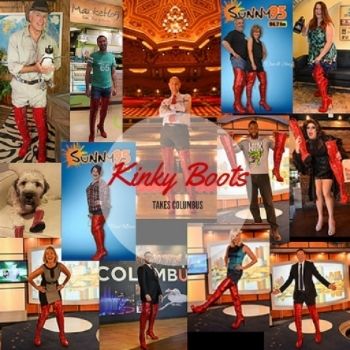 See you at the show!
Kinky Boots will be at the Ohio Theatre October 6-11, 2015. Tickets are still available here or at the CAPA Ticket Center.